Weirdo Goddess



Joined: October 13th, 2004, 3:04 pm
Posts: 327
Location: The Weirdo Zone


Upcoming Movies that seem interesting…
I think we need a thread like this, as there are movies out there that might just get me to go out and plop down a pile of cash to go see (like Harry Potter). So post your movie rumors (other than ones about the third MK movie that will never come out – sorry, it's just not coming out, okay? Deal.), thoughts on how you hope it turns out/ has turned out and if we should waste our moola to see it or not.

As for my interests, I've seen the Legend of Zorro with the family, and it was just as much fun as the original if not more. Hence it's a good idea if you liked the Mask of Zorro to go check out this next installment while it's still in theaters. Hopefully when everyone's home next time around we're going to see the next Harry Potter. Everyone seems to be commenting on how much darker this movie is, but if you've read the books you know that already as the books seem to be getting progressively more darker as they go on – which for my two cents, is a good thing.

Movies that haven't come out yet that have gotten my complete attention are The Chronicles of Narnia: The Lion, The Witch, and The Wardrobe – Dec 9th (hopefully Disney won't muck up one of my favorite book series of all time – My first Mac was named Asland after all), Peter Jackson's King Kong – Dec 16th (I can't wait for that one), and Aeon Flux – Dec 2nd (which surprised me, but I did so love the animation as it was weird as all get out).

In rumor news, I hear there's going to be in 2006 an Aqua Teen Hunger Force movie, a DOA-based movie, a Far Cry movie, a G-Force movie (*snort*), a second Garfield movie (*barf*), a Get Smart movie (Without Don Adams? Heaven help us!), a Ghost Rider movie (apparently nothing will stop Marvel until they've made a movie about EVERY comic title they have), a He-Man movie (Where's the fair play for She-Ra here? He-Man already had a movie in the 80s!), two Highlander movies, a second Ice Age movie (The previews of which already make me laugh), a fourth Jurassic Park (I'm starting to feel bad for the Dinos here), a live-action Kiki's Delivery Service (Noooo!), a second Kung Fu Hustle, a second Kung Pow, The Last Unicorn, a Metroid movie, a Neopets movie (*barf some more*), the Pink Panther movie with Steve Martin in it, the second Pirates of the Caribbean movie (Yay! More Johnny Depp!), another Resident Evil movie, a third Rush Hour movie, Shazam! (Yes, the DC comic superhero, not Shaq as a genie…), a Silent Hill movie, a second Sin City, Splinter Cell, Superman Returns, Swiss Family Robinson, second Underworld movie, and the third X-men…
They also have mentioned a fourth Die Hard, a fourth Terminator, the third Mortal Kombat and an umpteenth Rambo movie, but on all for those, I wouldn't hold your breath…

So what new have you heard or want to comment on any of the above?
_________________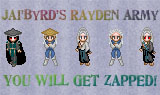 Vampress


Joined: February 18th, 2005, 11:58 pm
Posts: 39
Location: Florida


I wanna see Aeon Flux too. Speaking of Aeon, they're releasing the animated series on November 22.

I figured they'd make a new Resident Evil movie, but I hadn't heard anything about it. I saw the previews for the second Underworld movie, and imo it looks pretty good.

Also, I heard Blood Rain is coming out in 2006 as well.